FIND YOUR PERFECT SHOTGUN SEAT
SHOTGUN®

£85 GBP

On/off – 2 minutes

Regular MTB only

Frame mounted 

Fixed footpeg height

Kids 2-5 years*

Learn More

SHOTGUN® 2.0

£145 GBP

On/off – 30 seconds

Regular MTB only

Frame mounted

2 footpeg heights

Kids 18 mo-5 years*

Learn More

SHOTGUN® PRO

£200 GBP

On/off – 15 seconds

E-bike compatible

Zero frame contact 

7 footpeg heights

Kids 18 mo-5 years*

Learn more
Not sure if your little one is ready to ride shotgun?
Check out our in-depth sizing guide to ensure the perfect fit for your family.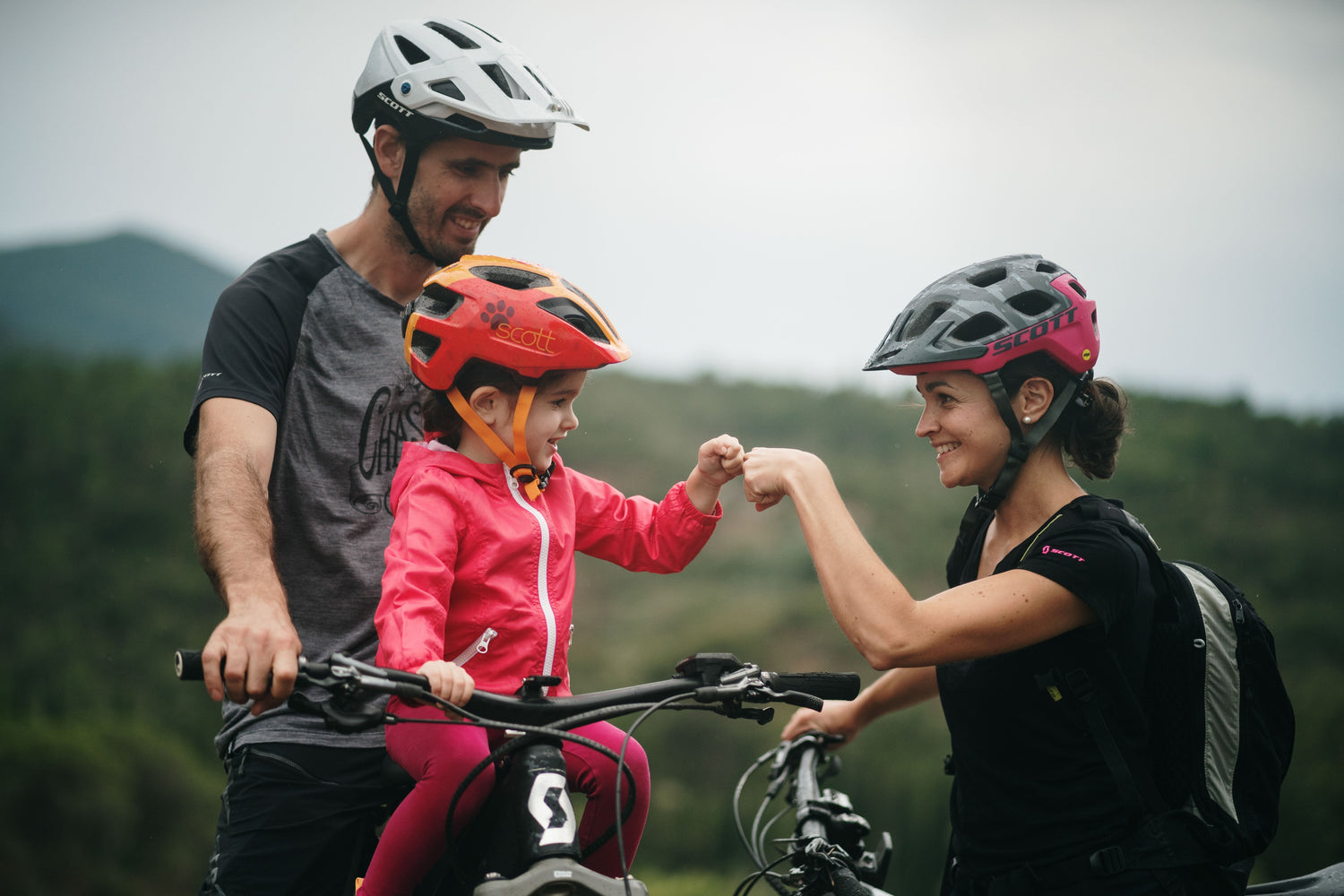 DESIGNED BY MOUNTAIN BIKERS, FOR MOUNTAIN BIKERS
Designed specifically for mountain biking and tested in the toughest environments so you can take to the trails with confidence.
RIDE TOGETHER AS A FAMILY
Share the joy of mountain biking together as a family, spending quality time together in nature doing what you love.
PROTECT YOUR FRAME
All of our front mounted child bikes seats have full rubber protection to keep your frame safe from damage or scratching.
HELPFUL ARTICLES
Choosing a child bike seat for mountain biking: The 5 most important considerations

Child bike seats open the door to the amazing world of mountain biking together as a family, however with so many options available how do you know you're getting the right bike seat for your family's needs?

Here's our 5 point checklist for getting the right child bike seat for your adventures:

1. Front-Mounted vs. Rear-Mounted Seats

When it comes to mountain biking, a front-mounted child seat is your best option for several key reasons.


With your child sitting between your arms with a clear view of what's ahead, front-mounted seats provide an amazing experience and also facilitate better interaction and communication between parent and child. This allows you to share the thrill of the trail whilst maintaining a safety envelope with your arms.


Front mounted seats are also suitable for full suspension bikes (rear mounted seats are not), and positioning your child in the center of the bike helps keep an even weight distribution, ideal for mountain biking and riding off-road terrain.


While rear-mounted seats can be suitable for older children and commuter-style bikes, front-mounted seats align are designed specifically for the dynamics of mountain biking.


2. Understand Safety Considerations

Mountain biking presents unique challenges, making safety a top priority. Choose a child bike seat that aligns with emerging safety standards like ASTM F1625 and EN 14344. These standards are being developed specifically for the industry, ensuring that the seat is constructed to provide a safe experience and optimal protection for your child.

Inspect the seat's safety features: Are there separate handlebars to keep little fingers safely away from gears, brakes, and cables? How secure is the attachment to your bike? For carbon frames, does the seat distribute weight off the frame? Ensure there are straps to keep your child's feet securely in the footrests, and assess the padding on the seat.

In addition to adhering to these safety standards and incorporating the aforementioned features, we recommend purchasing only from reputable companies that employ independent quality testing in their manufacturing processes. This further ensures the safety of the product you're investing in.

3. Bike Compatibility

Mountain bikes come in all shapes and sizes, so it's important to confirm that your chosen child bike seat is compatible with your mountain bike's frame and design features. While there are lots of child bike seats on the market to choose from, they are also designed for a wide variety of bikes – often lacking compatibility with mountain bikes due to their aggressive frame shape or the limited space on MTB headsets. For riders with carbon bikes who don't want to attach a seat to their frame, zero frame contact attachment is another consideration.
Always review the seat manufacturer's specifications for attachment to guarantee a secure and safe fit to your bike.

E-bikes present another crucial consideration for compatibility. Among our three bike seats, only one (the Pro seat) has zero frame contact with additional leg width, which is essential for E-bikes with wider down tubes due to the placement of the battery. Very few manufacturers explicitly state that their seats are safe for use on E-bikes, so we advise you to check with the manufacturer before purchasing if they do not specify this.

4. Weight and Age Limits:

Consider your child's current weight and age, ensuring they fall within the specifications provided by the manufacturer. Factor in how long the seat will accommodate your child as they grow and progress in their mountain biking journey – some seats have additional features which allow the seat to adjust and grow with your child, providing a longer usage time frame.


5. Effortless Installation and Removal:

When your little one is ready and excited to go riding, you don't want to be faced with a lengthy, complicated process to get your child seat onto your bike. Opt for models equipped with quick-release mechanisms and user-friendly attachment systems. The ability to easily install and remove the seat enhances your flexibility both on and off the trails.


Armed with this information you should be ready to grab your perfect bike seat and hit the trails together as a family. If you still have questions about which seat is right for you, check out the information on our range of Shotgun child bike seats.

Mountain biking with toddlers: How to choose between front-mounted bike seats, rear bike seats and bike trailers

Mountain biking is an awesome adventure that becomes even more special when shared with your child. However your choice of seat to carry your little one can significantly impact the safety, comfort, and overall experience for both you and your child. Between front-mounted bike seats, rear bike seats and bike trailers, it can be tricky to understand which option is best for your family.

For everyday mountain biking we recommend front mounted seats for the following reasons:

1. Enhanced Interaction and Communication:

Front-mounted bike seats keep you closely connected with your child throughout the ride. Unlike rear seats and trailers which reduce your child's view and limit their participation, front-mounted seats provide an amazing experience, positioning your child between your arms at the center of the action. This riding position allows you to chat and engage with your child during the ride, increasing bonding and shared excitement as you ride together.


Having a clear line of sight and close communication with mum or dad is especially important for your child when you're mountain biking off-road on uneven terrain.

2. Superior Balance and Control:

Mountain biking requires a high level of balance and control, and front-mounted seats have little impact on these factors Vs other options. Placing your child upfront centers the additional weight, allowing for better distribution across the bike. This arrangement doesn't impact your stability and control, a key advantage when navigating challenging terrain, steep descents, and tight corners.

3. Designed for Mountain Biking

Front-mounted seats were designed for mountain biking, adapted to the specific design of mountain bikes and purpose built for use on singletrack trails.
Unlike rear seats, front mounted bike seats are suitable for use with full suspension mountain bikes, and unlike trailers, allow you to ride on singletrack trails, unlocking the full mountain biking experience you want to share with your little one.


4. Dynamic Learning Experience:

Mountain biking with your child up front is not only an amazing experience, it also helps to develop their riding skills, providing a fun and immersive learning opportunity for your child. They can observe your actions, mimic your movements and develop their balance – learning firsthand about trail dynamics, enhancing their cognitive and motor skill development.


For everyday mountain biking, front-mounted seats are the obvious choice – but when might you pick a bike trailer or rear mounted seat?

We believe bike trailers are fantastic for multi-day adventures, especially when you want to use the trailer as a dual-purpose sleeping space while on the ride, or when you need it to carry additional gear that cannot easily attach to your bike. In fact, many of our bike-packing adventure families combine our front-mounted seats with trailers for this very reason! If you're interested in learning more about bikepacking with your toddler, you can find heaps of articles in our blog with more information.

We only recommend rear-mounted seats for beach cruisers or commuter/cargo bikes, particularly when you need to carry multiple children on a single bike. We do not believe that rear-mounted seats are safe for trail riding.

Why use a front mounted child bike seat? 10 incredible benefits to family mountain biking with young children

In a world dominated by screens and sedentary activities, it can be hard to find engaging ways to get outside as a family, creating authentic moments of connection and staying active together.


Front-mounted child bike seats offer an amazing opportunity to blend the joy of mountain biking with the promotion of health and wellness for both parents and children.

Here are our favorite 10 benefits to mountain biking together as a family:

1. An Active Lifestyle for All Ages:

Introducing children to outdoor activities at an early age lays the groundwork for a lifelong passion for nature and an active lifestyle. Using a front-mounted bike seat enables toddlers and young children to experience the joys of mountain biking while immersing themselves in the sights and sounds of the outdoors. This early introduction to an active lifestyle fosters positive habits that can contribute to improved health outcomes as they mature.


2. Creating Lasting Memories:

The shared experiences of riding with your child up front on your bike creates cherished memories, something parents often are sad to see their child grow out of. These moments of laughter, discovery, and adventure become a source of joy and nostalgia for both parents and children.


3. Cardio for mum and dad

Balancing your own level of exercise with the care of a young child can be challenging. Getting outside riding with your little one up front provides a chance to reintroduce cardiovascular exercise in a fun and connected way. This activity gets your heart pumping and blood flowing, enhancing blood circulation and bolstering overall cardiovascular fitness.


4. Muscle Development and Strength:

Cycling serves as a fantastic low-impact activity that engages a variety of muscle groups, promoting muscle development and strength. For you, the added weight of your child on the bike cultivates increased strength. For your child, they activate their core muscles to stabilize themselves, while their legs and arms naturally engage as they navigate berms and bumps, gradually toning muscles in a gentle yet effective manner.


5. Active Parenting:

It can be hard to find healthy activities that you and your young children will both enjoy. Luckily mountain biking together using child bike seats provides this exact opportunity, as well as a chance for parents to actively model healthy behaviors and values. When children witness their parents prioritizing physical activity and outdoor exploration, they are more likely to adopt these practices themselves, laying the foundation for an active lifestyle later in life.


6. Emotional Wellbeing:

Spending quality time outdoors with loved ones can positively impact emotional wellbeing for both parent and children. The shared experience of riding together fosters connections and memories that last a lifetime. The combination of fresh air, sunlight, and physical activity triggers the release of endorphins, effectively reducing stress and elevating moods for the entire family, especially on those days when a full night's sleep seems like a distant dream.


7. Raising resilient children

It's important to provide your children with safe activities from a young age where they get to overcome challenges, in order to prepare them for everyday life as they get older. Mountain biking is a great opportunity for this – whilst they are safely nestled between your arms they get to participate in the ride where you navigate challenging terrain together, physically exert yourselves and overcome the tests that come up on everyday rides (like that flat tyre or unexpected rain storm).


8. Cognitive Development:

Outdoor experiences are great for stimulating cognitive development in children. As you ride together they absorb their ever changing surroundings, experience new sights and smells and tell you all about it as you chat whilst riding. These experiences contribute to cognitive growth, curiosity, and a deeper connection to the world around them.


9. Nature's Classroom:

Front-mounted child bike seats allow you to get further into the forest with your little one, transforming nature into a captivating classroom. Children can learn about their environment – identifying different plants and animals in the forest, or playing whilst you take a break on your ride. This hands-on learning experience enriches their understanding of the world and nurtures a sense of wonder.


10. Boosting Immunity:

Getting out of the house and into nature exposes children to natural elements and diverse microorganisms, which can contribute to a stronger immune system. Getting some sunlight is also great for your mental health as well as stimulating the production of vitamin D, vital for bone health and overall immune function.

EXPLORE MORE OVER ON INSTAGRAM
THE LATEST FROM OUR BLOG
"Riding and camping under the canopy, it was beautiful to share the experience as a family, winding through one of the world's last prehistoric rainforests, rich in wildlife and trees...

"Riding and camping under the canopy, it was beautiful to share the experience as a family, winding through one of the world's last prehistoric rainforests, rich in wildlife and trees...

If you're raising a mountain bike kid that's under 5 years of age, it can be tough to find gloves that are small enough to fit their little hands. With...

If you're raising a mountain bike kid that's under 5 years of age, it can be tough to find gloves that are small enough to fit their little hands. With...

With one week of holiday left and an excellent weather forecast, we decided to go for a trip that was close to home. The Green Divide, created by Erwin Sikkens,...

With one week of holiday left and an excellent weather forecast, we decided to go for a trip that was close to home. The Green Divide, created by Erwin Sikkens,...